30% auf alles mit dem Code BLACKWEEK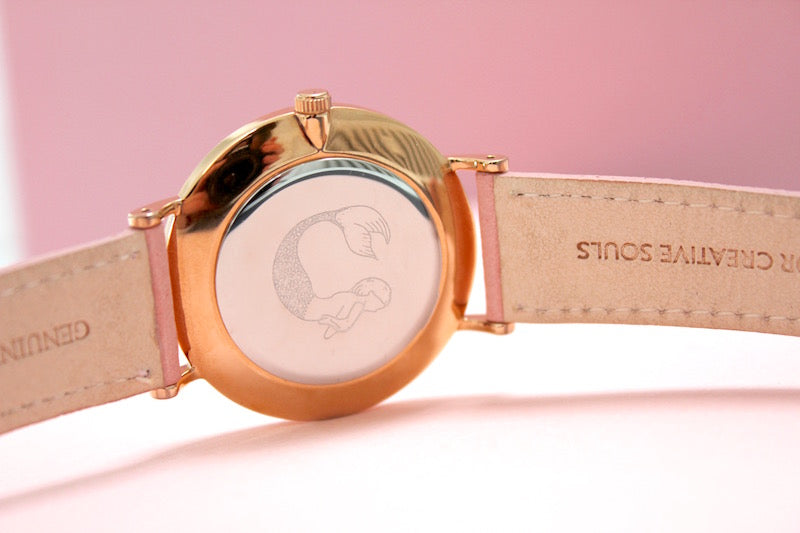 A mermaid on the back, a summer in front
Each of our watches carries a little mermaid on the back. Being the symbol of both Copenhagen Chic, dreams and magic, it is also a beautiful reminder to live what you really aspire to do. And to enjoy the small moments in life.
Summer is a time where many of you capture small moments of joy, light and blossoms, not to forget bikinis, friends and ice-cream during holidays.
We have collected inspiration from you mermaids in the most light and playful time of the year. This calls for pastels and your favorite colors!
Coconuts, mermaids and the beach: Marieke Kazen from the Netherlands wearing JOSEFINE in champagne.
Light pastel colors don't only work outside: Josephin Wendland, blogger at Tensia, with her MIA watch. 
Blue dress and a midnight black watch? Definitely a match, as Nanna shows with her classic LOUISE.
Johanna from Pinkepank wearing her dusty rose MIA.  
The beauty of vegetable tanned leather is that it gets nicer over time. No worrying about the time, since the leather will develop a beautiful patina. 
On this picture: Strolling around with AMALIE, our golden-black simplistic watch. 
 ➸ Feeling inspired? Choose your own Mermaid Stories watch and discover their personalities!