30% auf alles mit dem Code BLACKWEEK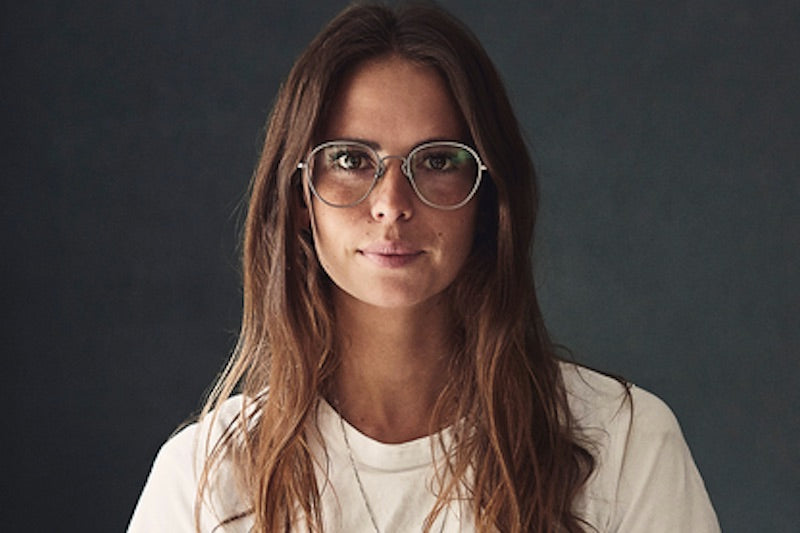 Amanda Lilholt, Furniture Designer
Furniture that is designed and made by Amanda Lilholt is nothing like you have seen on the market before. It is a living creation with a unique identity, characteristic expression and patterns that clearly reflect the designer's passion and dedication.

At Mermaid Stories we were lucky to interview the Copenhagen-based furniture designer Amanda Lilholt who in this article invites you to get a glimpse of what is happening behind the scenes of her brand and shares her best advice.
Dear Amanda, can you tell us how Studio Amanda Lilholt started?
It started while I was studying at the school of design. I quickly realized that my dream wasn't to end up in an office, drawing sketches for other designers - my dream was to establish a brand that in a long run could lead to my own designer office. Already after the first year at the school of design I could feel a rising desire to create furniture beside all the school assignments, photograph the pieces and give them their own identity. So without thinking about it too much I started building my brand step by step. I started selling my school projects to get some money to further develop my ideas and that's how it all began. 
Later I also became more and more interested in the strategic aspects of building a brand, and the more furniture I made and sold, the better I became at developing visual sales strategies. Already at the early stages of the brand building process I got featured in several press releases, which kept me motivated and going on with running the brand, while still in school.
Where do you find inspiration for design of your furniture collection?
It is often a reflection of what is going on inside me and a general curiosity within me that inspires me to create my collections. To be able to combine the head and the hands in a physical object as a result brings me inspiration. Curiosity often arises in relation to a material, when testing it and trying to figure out if I could add new qualities and characteristics to it.
Beautiful table from Amanda's "The Earth Collection"

What motivates you to keep creating on a daily basis?
I am motivated by the fact that I can wake up every morning and do what I love the most every day - create. For me it is natural to be in a constant creative process, constant creative flow and I personally consider being able to experience this a gift. To be able to be my own boss and decide how and when my ideas should be executed is pure happiness for me. The whole process of creating something, from the initial idea to the final physical result, motivates me, and I never get tired of it.
How does a typical day look for you?
Not two days in my life are the same, so it is difficult to describe what a typical day for me looks like. Though, there's one thing that is certain: My day always starts with a big cup of coffee.
Sometimes I spend the day at home in my studio, accompanied by mails and sketching. Sometimes I spend the day at my workshop where I make the ordered furniture pieces or work on prototypes. Other days are spent behind in my car driving around to suppliers, delivering or picking up materials and finished furniture. Some days can also contain customer meetings in different cities. 
What is your best time management advice?
I have been trying to figure this out for many years myself, and I am still not in the position where I feel that I have a single, good advice to give to other people. Generally, I think that there are too few hours in a day, but my best advice would be to do one thing at a time, although you have a lot on your plate at the time being. If you have an important email to write, put the phone away while you work on it, so you won't get distracted by notifications from Instagram. Whether you need to finish a sketch, make a sample, write an email or do something else - always be fully present in the moment. And if things suddenly get too much and you loose the sense of coherence and capture of them, it is important to breathe, go for a walk, put things in perspective and then just start with something. 
What is your biggest professional dream?
To be the leading brand within quality design and unique creations in Denmark. To be able to make total solutions around the world, where it is my eye and my aesthetics that decide how things should look and to be able to use my furniture catalogue for that. To be able to contribute with an "Amanda Lilholt" solution (we should dream big, right?).
From all of the projects that you have worked on or been a part of, what was the most exciting one and why?
The most exciting project that I have worked on has by far been the process of development of the technique that I use to make the surfaces for the furniture with - the surface treatment technique. I started to work on the technique a year prior to my graduation from the school of design and it ended up being my whole graduation project. The technique was later on refined and tested on different objects, but not earlier than last year did everything (the technique, the production process, the products themselves) culminate and result in "The A Collection" that later was expanded with "The Earth Collection", which contains the same technique, but uses different, brown and red toned colors. The technique has even later been developed in green toned colors and at the moment I am working on an art collection with the yellow color as the center point.
The whole journey has been very exciting, nerve-wrecking and it has cost me a fortune, but it was all worth it. Today I can sell unique tables made with a technique that I have discovered myself and that I haven't seen anywhere else, neither in Denmark nor abroad.
Behind the scenes of the furniture creation process

What is the most challenging part about what you do? How do you overcome these challenges?
I think that the whole production part of what I do is challenging and, in fact, much more challenging than I expected it to be. Many of my designs are still not being made, because it is difficult for me to get the manufacturers to want to collaborate and work with me, as my designs often are a bit complicated. Manufacturers would often like to do the same as they are used to doing, and they would change the design to make the production process easier and cheeper than the original design requires. But if the design gets changed, everything gets lost and I end up with something that looks like everything else on the market. So from the very beginning I have been very strickt with this and went from one manufacturer to the other, negotiated and discussed until I finally found someone who would produce my furniture without compromising the original design.
I haven't succeeded at that with the tables yet, so I still make them myself, one by one, at my workshop in Hellerup. But I can't keep doing it forever, as it is both hard, too risky and too expensive. I think it's about thinking long term and knowing that this is just a phase, otherwise it can be difficult to overcome the situation. So I still daily contact new manufacturers that hopefully would take on some of the pieces and in the future make my job at the workshop easier.
Every room stands out with furniture pieces from Studio Amanda Lilholt

What piece of furniture from your collections is your favorite?
My tables with the surface treatments are my favorite pieces, because it is a technique that I have discovered and developed myself, it is a material that I have transformed into something different and the steel in the pieces became a living creation with unique patterns and structures, all different from one table to another. It makes me proud thinking about the fact that I was able to incorporate a self-developed technique into a collection of different furniture types that stand out from the rest of the assortment on the market.
What piece of furniture was the most difficult to design and create?

It is definitely my collections with surface treatments. It was extremely difficult to figure out how the shiny surface should be transformed into a solid table; it took me a while and a lot of tests to figure out how the construction, material and expression of the tables should be combined the most effectively.
If you could give one advice to women who consider starting their own business, what would it be?
My best advice would be: "Just do it". When this is said, then my best advice would be to really notice your feelings and figure out if this is the life you want to lead. You need to sacrifice a lot of things in order to reach your goals: Family time, time with friends, your personal time, freedom in general. You have to bet everything, quit your regular job for instance, as I don't think that you can succeed working on your business half time. It's hard to be your own boss and have your own company - there's no one to come in and pay the bills instead of you. You should be willing to take risks and you should have good discipline. If you are not passionate enough, I don't think that you will succeed - you have to give it your all. So first of all, you should figure out what sets your soul on fire.
Thank you so much for the interview, Amanda!
➸ Head over to Amanda Lilholt's inspiring Instagram account to keep up with her amazing work.

If you liked reading about Amanda Lilholt, you might like our interview with the creators of Lawa Design, or our conversation with the graphic designer and artist Anna Härlin.

Interview by Mermaid Stories
Photos by Studio Amanda Lilholt